Can Boston bombing suspect get a fair trial if public thinks he confessed?
For much of the public, Dzhokhar Tsarnaev has already admitted guilt, whether or not his reported confession is admissible in court. A look at the challenges posed by pretrial publicity.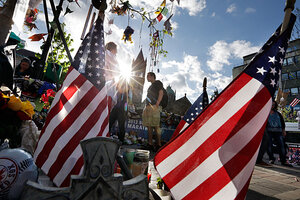 Steven Senne/AP
Dzhokhar Tsarnaev's defense has their hands full with lots of issues.
But, one of their bigger problems is that if his case goes to trial, it has already been reported that he has confessed to the awful crime.
According to unnamed "authorities," Dzhokhar Tsarnaev admitted that he and his brother Tamerlan were behind the Boston Marathon bombings, wrote Boston.com. on April 23.
But that "confession" – if it actually happened – may or may not be allowed in a trial, since Mr. Tsarnaev had not yet been "Mirandized" – reminded of his rights to be represented by a lawyer and to remain silent.
However, for a lot of the public – some of whom might be potential jurors – he's already admitted guilt.
The story illustrates a common legal problem in high profile cases in which the press is clamoring for information and sometimes someone in the government – maybe a prosecutor, maybe a police officer – is willing to oblige as long as they are not identified.
The government could dangle a key piece of evidence that may or may not be used later. Or, a defense lawyer may suggest anonymously that his client is ready to plead. What's wrong with that?
Both prosecutors and defense lawyers say the leaks make trying a case more difficult. If the pre-trial information is extremely detrimental it might mean an expensive move to a different venue. And, in extreme cases, higher courts may decide on appeal that the atmosphere around a trial was such a media circus that the case has to be retried.
"Indeed, it can get to the point where the defense can't get a fair trial anymore," says Jonathan Shapiro, a criminal defense lawyer for 40 years and now a visiting professor at Washington & Lee Law School in Lexington, Va.
---