Court to hear case on whether Obamacare violates religious liberties
The federal appeals court in Denver is set to hear arguments Thursday on whether the Obama health-care law can compel business owners to violate 'sincerely held religious beliefs.'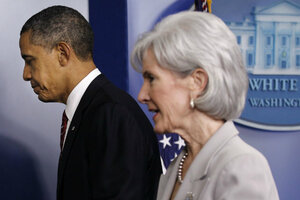 Pablo Martinez Monsivais/AP/File
A federal appeals court in Denver is set to hear argument on Thursday in a lawsuit charging that the Obama administration's requirement that employers provide contraceptive services in all mandated health plans violates religious liberty.
The full 10th US Circuit Court of Appeals has scheduled an hour-long argument session to allow lawyers for the family-owned Hobby Lobby Stores to argue their case that the contraception mandate violates sincerely held religious beliefs of the company owners.
The owners, the Green family, are evangelical Christians. The company already provides their 13,000 employees with health-care coverage, but it does not include certain kinds of birth control methods that are offensive to the Green's religious beliefs. They particularly object to the provision of the so-called morning after pill, which they believe can be abortion-inducing.
The case is one of 59 lawsuits challenging the contraception mandate that are pending across the county, and one of a handful to reach the appellate level. Legal analysts expect potential future appeals to arrive at the US Supreme Court later this year.
Specifically at issue is whether the courts should issue a preliminary injunction blocking enforcement of President Obama's health-care reform law pending a full airing of the underlying religious liberty issue.
---