Planned Parenthood victory: Supreme Court turns away abortion case
An Indiana measure, which a lower court had already blocked, would have prohibited Medicaid funding for health providers like Planned Parenthood. The US Supreme Court declined the abortion case Tuesday.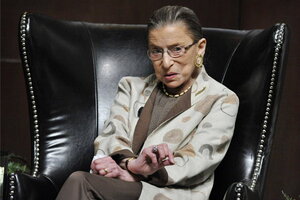 Paul Beaty / AP
States aiming to restrict abortion access were dealt a setback Tuesday when the US Supreme Court refused to consider an appeal of a lower court decision blocking an Indiana measure that would have prohibited Medicaid funding for health providers that perform abortion services.
The decision is likely to affect a similar proposed ban making its way through the legislature in Arizona. Both states argue that taxpayers are inadvertently funding abortions when health-care clinics like Planned Parenthood receive Medicaid funding for services other than abortion. Federal law prevents the direct funding of abortion services, but the measures in Indiana and Arizona are seen as going a step further in stripping Medicaid dollars from any organization that offers abortion.
Opponents of the measures say the strategy denies low-income patients the right to obtain health care from their provider of choice. The Indiana chapter of Planned Parenthood, which operates 28 clinics in the state, says that it serves more than 9,300 Medicaid patients annually for preventive-care services that include cancer screenings, routine medical exams, and birth control.
Betty Cockrum, president and CEO of the Indiana chapter, released a statement Tuesday, characterizing legislators' strategy as "trying to score political points and wasting taxpayer dollars." Medicaid funding represents about 20 percent of the group's annual budget of $15 million.
The Indiana ban passed in June 2011 but was immediately blocked by the US District Court in Indianapolis. In signing the law, then-Indiana Gov. Mitch Daniels (R) said he was confident "that all non-abortion services ... will remain readily available" across the state and that, if the affected organizations eliminated abortion from their roster, they would once again become eligible for federal dollars.
"Any organization affected by this provision can resume receiving taxpayer dollars immediately by ceasing or separating its operations that perform abortions," he said.
---