Whitey Bulger on trial: what last-minute legal maneuvers portend
James 'Whitey' Bulger, reputed Boston organized-crime boss and former FBI Most Wanted fugitive, appeared in federal court Monday. Some of the trial's likely narratives were evident in pretrial motions.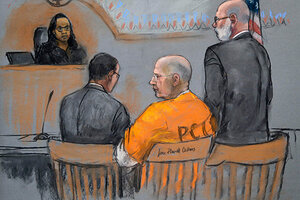 Jane Flavell Collins/AP
It's been a long time coming, thanks to a manhunt that took 16 years, but the trial of James "Whitey" Bulger is about to begin.
Mr. Bulger, long at the top of the FBI's Most Wanted list, sat before a US District Court judge Monday for a pretrial hearing, dressed in an orange jumpsuit with a long-sleeved white shirt underneath.
He is alleged to have maintained a lucrative crime racket in South Boston through a quarter-century reign of terror ending in the mid-1990s. Federal prosecutors are charging him with 19 murders, extortion, money laundering, and other crimes.
The 83-year-old Bulger showed little expression Monday, staring forward with his arms folded in front of him for much of the hearing. He wore eyeglasses and, unlike when he was captured at a California apartment in 2011, the defendant was clean-shaven.
But the case is packed with emotion. Victims' families are eager for justice. For residents of the region, the trial embodies a years-long effort to root out entrenched organized crime.
The trial also dredges up boatloads of controversy for the FBI, which for years partnered with Bulger as a "top echelon" informant in its battle against the Mafia – a relationship that went sour as the FBI handler devolved into aiding Bulger.
"The FBI is on trial along with Whitey," says Dick Lehr, who teaches journalism at Boston University and is the author of several books on Bulger.
Bulger's former handler has already been convicted of crimes tied to the affair, but the Bulger trial could bring out new details about flawed behavior within the bureau's Boston office.
And Bulger himself isn't going to remain silent and on the sidelines.
---