Why military judge has hands full with Nidal Hasan court-martial
With Maj. Nidal Hasan defending himself during his court-martial for the 2009 Fort Hood mass shootings, the judge will have a difficult proceeding to manage to prevent a jihad 'circus.' Some expect to see parallels to trial of Zacarias Moussaoui, the missing 9/11 hijacker.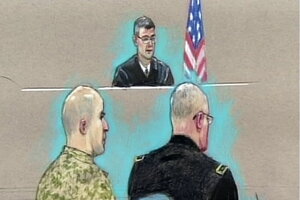 Pat Lopez/Pool/Reuters
US Army Maj. Nidal Hasan, a psychiatrist accused of murdering 13 fellow soldiers in a hail of gunfire at Fort Hood in 2009, will have a chance to be both star witness and star defense counsel in a long-awaited court-martial that looks ready to pit Western justice against justifications for Islamic jihad.
After determining that Hasan is mentally and physically fit to defend himself, the military judge, Col. Tara Osborn, is now weighing the extent to which she'll allow him to pursue his main defense: that he was justified in killing US soldiers about to deploy to Afghanistan to prevent the imminent deaths of Taliban soldiers.
Undoubtedly, military justice experts say, Hasan will have opportunity both in arguments and cross-examination to make bolder statements, some that may try to weave legitimate legal theory into political or religious ideology in order to use the trial "as a platform to advance radical jihad," as Jeffrey Addicott, director of the Center for Terrorism Law in San Antonio, told the Monitor's Amanda Paulson on Monday.
While Judge Osborn has the power to limit testimony to the facts at hand, former military lawyers and legal experts suggest that it will be a difficult court-martial to manage, mainly because it exposes attack survivors to cross-examination by the same man whom they say pointed weapons at them and opened fire while yelling "Allah Akbar," Arabic for "God is great."
One expert on military courts, speaking on background, says the trial "is going to be an exercise in control, moment to moment."
---