Planned Parenthood, ACLU file suit to block new Alabama abortion law
An Alabama abortion law passed this spring is an unlawful attempt to shut down abortion clinics in the state, say Planned Parenthood and the ACLU.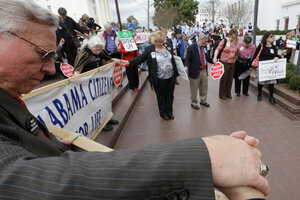 Dave Martin/AP/File
Lawyers for Planned Parenthood and the American Civil Liberties Union filed suit on Tuesday asking a federal judge to block enforcement of a new Alabama law that critics say will force the closure of three of the state's five abortion clinics on July 1.
The new measure, signed into law in April, requires all physicians in the state who perform abortions to have staff privileges at a local hospital.
Abortion clinic officials in Montgomery, Birmingham, and Mobile say they cannot comply with the requirement.
Lawyers say the new measure is a pretext to prevent abortions in Alabama. A similar provision that would have shut down the only abortion provider in Mississippi was recently blocked by a federal judge in that state.
"The purpose and effect of the requirement, which is wholly unnecessary and unreasonable, is to impose a substantial obstacle in the path of women seeking abortion prior to viability," the Alabama complaint says.
"It is an unreasonable health regulation, and it has the unlawful purpose and effect of imposing an undue burden on women's right to choose abortion," the lawsuit says.
Proponents of the law say it is a necessary step to ensure that clinics meet health standards. The author of the law, state Rep. Mary McClurkin, told the Montgomery Advertiser that "when a physician removes a child from a woman, that is the largest organ in a body."
But Alexa Kolbi-Molinas, a staff attorney with the ACLU Reproductive Freedom Project, calls it part of national strategy by antiabortion activists to exploit novel ways to shut down abortion clinics at the state level.
"We are in court to protect a woman's ability to make her own personal, private health care decisions," the president of Planned Parenthood Southeast, Staci Fox, said in a statement.
Hospital staff privileges can be difficult for an abortion provider to obtain, Ms. Kolbi-Molinas said, because they are generally reserved for physicians who regularly admit patients to the hospital. She said the designation requires that the doctor admit 12 to 48 patients a year.
---