Obama, in surprise move, wades into NYPD 'stop and frisk' lawsuit
A federal judge is poised to rule soon on the constitutionality of the NYPD's controversial 'stop and frisk' policy. The Obama administration this week said nothing on that point, but it did state its preferred remedy if the city loses the case.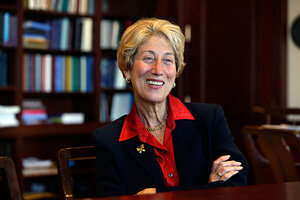 Richard Drew/AP
The New York Police Department's controversial "stop and frisk" policy received a kick in the shins this week, when the Obama administration took the unusual step of outlining its preferred remedy in the event a federal judge examining the NYPD tactic rules it to be unconstitutional.
The US Department of Justice told the court, in a surprise last-minute filing, that it would prefer an independent monitor to help ensure changes, should the city of New York lose this case.
The government filed its "statement of interest," however, somewhat reluctantly. It would have preferred to weigh in "if, and only if," the statement said, the court had already found the NYPD's tactics violate the Constitution. But the judge in the case, Shira Scheindlin, had consolidated the so-called liability and remedy phases of the trial, requiring all interested parties to submit their briefs before she makes her decision, expected this summer.
The Justice Department (DOJ) offered no opinion on the constitutionality of this crime-fighting tactic, which allows any New York City police officer to stop, question, and frisk a person for weapons if the officer reasonably suspects that person is engaged in a criminal activity. But it did zero in on the most contentious of the remedies sought by the private citizens who brought the class-action lawsuit: the appointment of an independent monitor to oversee changes in the NYPD.
---