Supreme Court limits judges' discretion on minimum sentences
Any fact that increases the mandatory minimum sentence for a crime must be determined by a jury, not a judge, the Supreme Court rules in an important Sixth Amendment case.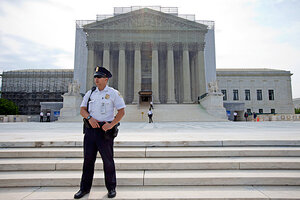 J. Scott Applewhite/AP
Judges will no longer be permitted to autonomously determine a fact in a criminal case if that fact increases a mandatory minimum punishment for the defendant, the Supreme Court ruled Monday, saying any such fact must be decided by a jury.
The decision marks an important affirmation of the Sixth Amendment right to a jury trial, while establishing a new rule for judges seeking to balance sentencing guidelines with their own judicial discretion.
In the 5-to-4 decision, the high court overturned two existing legal precedents from 1986 and 2002 that permitted judges to make such determinations themselves by a preponderance of the evidence.
In overturning those precedents, the majority justices said any fact that increases a defendant's sentence – including a mandatory minimum sentence – must be submitted to a jury under the higher standard of proof of beyond a reasonable doubt.
"The essential Sixth Amendment inquiry is whether a fact is an element of the crime," Justice Clarence Thomas wrote in the 17-page majority opinion.
"When a finding of fact alters a legally prescribed punishment so as to aggravate it, the fact necessarily forms a constituent part of a new offense and must be submitted to the jury," Justice Thomas said.
"It is no answer to say that the defendant could have received the same sentence with or without that fact," Thomas added.
"The decision in Alleyne deserves credit for clearing up a strange feature of the Court's modern Sixth Amendment cases," said Ryan Scott, a law professor at Indiana University.
"Before today, the right to trial by jury played an important role in limiting the maximum sentence to which a criminal defendant is exposed, but no role in limiting the minimum," he said.
---