Supreme Court sends Texas affirmative action case back to lower court
The 7-to-1 Supreme Court decision requires the lower court to apply a new, tougher test to the case: Schools challenged on race-based admissions policies must show that there are no workable, race-neutral alternatives to achieve diversity.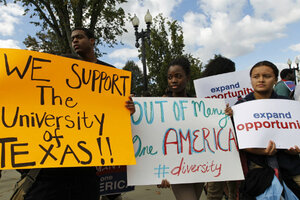 Jose Luis Magana/Reuters/File
The US Supreme Court on Monday stopped short of striking down a race-based admissions program at the University of Texas and instead sent the case back to a lower court to undertake a more rigorous examination of whether the program violates equal protection rights of white students.
The high court voted 7 to 1 to send the case back to the Fifth US Circuit Court of Appeals to apply the highest level of judicial scrutiny to assess whether the university's plan passes or fails constitutional demands.
"Strict scrutiny does not permit a court to accept a school's assertion that its admissions process uses race in a permissible way without a court giving close analysis to the evidence of how the process works in practice," Justice Anthony Kennedy wrote in the majority opinion.
The opinion establishes a new, tougher test for assessing the constitutionality of affirmative action admissions programs. The challenged school must be able to prove there are no workable race-neutral alternatives to achieve a racially diverse student body.
"The reviewing court must ultimately be satisfied that no workable race-neutral alternative would produce the educational benefits of diversity," Justice Kennedy wrote.
He added that "strict scrutiny imposes on the university the ultimate burden of demonstrating, before turning to racial classifications, that available, workable race-neutral alternatives do not suffice."
At issue in the case was whether the affirmative action admissions program at the University of Texas at Austin violated the Constitution's "equal protection" clause by relying too heavily on race as a factor in admitting minority students to the state's flagship university.
---