Probe of Stuxnet leak said to focus on US general. But why would he blab?
News reports say retired Gen. James Cartwright is the subject of a Justice Department investigation into a leak about the Stuxnet cyberweapon, which took aim at Iran's nuclear program. Here's what he's said in the past about what should and shouldn't be a military secret.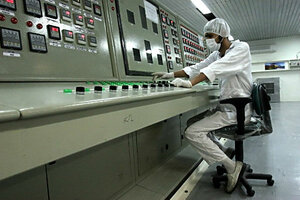 Vahid Salemi/AP/File
With the news that retired Gen. James Cartwright – until August 2011 the vice chairman of the Joint Chiefs of Staff – is under investigation for leaking to the news media details of a powerful US cyberweapon comes another pressing question: If he indeed did it, why would he?
Leaks are, after all, a tool that White House and Pentagon officials often use to help shape their political agendas, despite their public railings against them.
That's why reporters, when officials offer them leaks, in turn tend to ask, What is the motivation for the leaker to share this information?
There has been some speculation, for example, that even the leak to NBC News, which broke the story Thursday night about the Justice Department's investigation of Mr. Cartwright, was perhaps motivated by a desire to shift the conversation in America away from the embarrassing National Security Agency data provided by Edward Snowden.
Others have ventured that the Obama administration might be motivated to leak news of the investigation of Cartwright to serve as a warning to others who may be tempted to follow in the footsteps of Mr. Snowden.
It also serves to demonstrate that the White House won't hesitate to go after even top-level officials who once served the purposes of the administration: During his tenure as the No. 2 officer at the Pentagon, Cartwright was considered a favorite of President Obama because of his willingness to back the White House in its reservations about a US troop "surge" in Afghanistan.
---