Guantánamo: US judge condemns force-feeding, but declines detainees' appeal
A US district judge said she lacked the jurisdiction to halt the practice of force-feeding at Guantánamo, but condemned it as 'painful ... and degrading' and said Obama could stop it.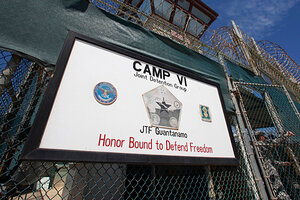 Bob Strong/Reuters/File
A federal judge declined Monday to order the US government to stop force-feeding Guantánamo detainees engaged in a long-running hunger strike, even as she condemned the practice as "painful … and degrading."
US District Judge Gladys Kessler said in a four-page order that she lacked jurisdiction to grant relief for the detainees in the case. In an unusual move for a federal judge, she then identified someone who did have clear authority to resolve the issue – President Obama.
The order was issued after a group of four detainees had asked Judge Kessler and a second judge to intervene to prevent the continued force-feeding of hunger strikers at Guantánamo – including during the Islamic month of Ramadan, when Muslims fast during daylight hours.
US officials say that 106 of the 166 detainees at Guantánamo are engaged in a hunger strike, and that 45 of them are being force-fed through the use of a tube inserted through the nose and into the stomach.
Lawyers for the detainees said the procedure is intentionally painful and inhumane and want the procedure halted altogether.
Government lawyers counter that they will not allow prisoners to starve themselves to death, adding that officials at the detention camp would refrain from conducting any forced feeding sessions during the day throughout Ramadan.
In her brief order, Judge Kessler addressed the case of Jihad Dhiab, a Syrian national who has been held at Guantánamo without charge for 11 years. He was eligible for release in 2009, but the release has never been carried out.
---