George Zimmerman trial: Six women weigh a silent man's future
The George Zimmerman jury has resumed deliberations in Sanford, Fla. Six women have an unenviable task: Measure justice in the case of a neighborhood watch captain who kills an unarmed teenager.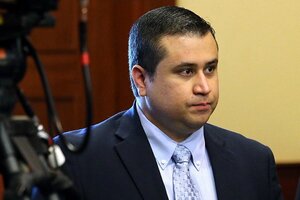 Joe Burbank/Orlando Sentinel/AP
Nationally engrossing for its commentary on race relations and gun rights, the trial of George Zimmerman for the murder of Trayvon Martin inched closer to resolution on Saturday as six jurors – all women, five of them mothers – continued to deliberate the extent to which, if any, Mr. Zimmerman bore responsibility for the death of Trayvon Martin, or whether he lawfully defended himself from an attack.
In the middle of the Zimmerman murder trial is a cone of silence, a two minute span that was never illuminated or explained during the trial by the lone survivor of a deadly encounter between two people – one an armed neighborhood watch captain, the other a black teenager minding his own business – on a rainy winter night in Sanford, Florida, in 2012.
Jurors have three paths they can take as a group: Murder 2, if they find Zimmerman had, as prosecutor John Guy said, "hate in his heart" when he followed, confronted, then shot Trayvon after a fight; manslaughter, if they find Zimmerman acted recklessly and without justification; and not guilty.
Legal experts who watched the entirety of the trial, which ended with closing arguments on Thursday and Friday, say that within those options lies the potential for a just verdict.
"Juries are famous for coming back with compromised verdicts, which means they have different ideas about what the evidence is," says Bob Dekle, a trial expert and law professor at the University of Florida, in Gainesville. "But even in those cases, what often happens is they work out a middle ground, which in this case could be manslaughter."
---