George Zimmerman 'not guilty' verdict: Legal fight could continue
George Zimmerman has been found not guilty in the shooting death of teenager Trayvon Martin. But the US Justice Department may pursue the case under civil rights law, and Trayvon's parents are considering whether or not to file wrongful death civil charges against Zimmerman.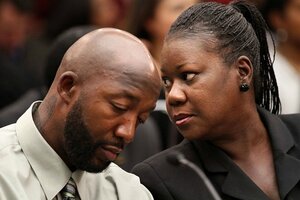 Jacquelyn Martin/AP
UPDATE 4:25 PM The Department of Justice said Sunday it would review the Travyon Martin-George Zimmerman case to determine if it should consider prosecuting Zimmerman, who was acquitted Friday in a Florida court, in the shooting case, reports Politico. "Experienced federal prosecutors will determine whether the evidence reveals a prosecutable violation of any of the limited federal criminal civil rights statutes within our jurisdiction, and whether federal prosecution is appropriate in accordance with the Department's policy governing successive federal prosecution following a state trial," the DOJ said.
The criminal trial of George Zimmerman in the shooting death of Trayvon Martin may be over, but the political, social, and legal reaction is likely to continue for months if not years.
In the immediate aftermath of the "not guilty" verdict, there have been protests around the country, marked by some vandalism and destruction of property. But for the most part, any angry reaction to Mr. Zimmerman's walking free has been subdued.
In Florida, where the case was heard, many churches planned to remain open throughout the day, the Miami Herald reported. "Every church should be open … to enforce the word not to retaliate," the Rev. Vernon Gillum told the newspaper. The CBS affiliate in Miami reported that police had erected at least two so-called First Amendment Zones for protesters.
So far, anything more serious than rhetorical protest has been limited.
Windows were broken and small street fires were started in Oakland, Calif., police reported. The Oakland Tribune said some windows on the newspaper's downtown offices were broken, and footage from a television helicopter show people attempting to start fires in the street and spray painting anti-police graffiti, the Associated Press reported.
---