President Obama: 'The death of Trayvon Martin was a tragedy for America'
George Zimmerman was found not guilty in the shooting death of black teenager Trayvon Martin. In a statement Sunday, President Obama said, 'I now ask every American to respect the call for calm reflection from two parents who lost their young son.'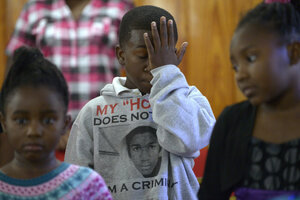 Phelan M. Ebenhack/AP
President Obama on Sunday afternoon issued a statement about the shooting death of Trayvon Martin by neighborhood watch volunteer George Zimmerman in Sanford, Florida, calling for "calm reflection" following "a tragedy for America."
On Saturday night, Mr. Zimmerman was found not guilty following a jury trial and 17 months of public debate and considerable anguish over what's been seen as a tragedy involving race, civil rights, criminal justice, and America's gun culture. (Trayvon Martin was black; Zimmerman's parents are white and Hispanic, and he was legally carrying a pistol.)
Until now, the President's only notable comment on the shooting death of the black teenager came last year when he said, "If I had a son, he'd look like Trayvon Martin." In his statement Sunday, Obama makes no direct reference to Zimmerman, who still may face civil charges and an investigation by the US Justice Department under civil rights law.
Here's Obama's full statement:
---