Along key stretch of US-Mexico border, more kids running drugs
The Tucson sector of the US-Mexico border has seen an alarming rise in the number of juveniles facing drug-smuggling charges. Teens are also carrying harder drugs into the US.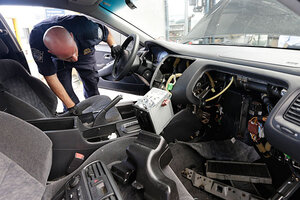 Gregory Bull/AP/File
On a balmy Monday afternoon, authorities at a highway checkpoint a few miles north of the US-Mexico border pull over a commercial shuttle for inspection. A teenage girl sitting inside appears rattled and, as it turns out, with good reason. Several bundles of heroin are weighing down her bag.
By the time border patrol agents finish checking all passengers, the teen and three other female minors are in custody. All had heroin packets tucked in their waistbands.
This incident from April was the latest in a string of recent cases in Arizona where juveniles have been arrested trying to smuggle drugs into the United States. While luring teens to act as drug mules for a few hundred bucks is not a new practice, the Tucson sector of the US-Mexico border – the nation's busiest – has seen an alarming jump in the past two years.
In 2012, 244 minors faced drug-smuggling charges in the Tucson sector, compared with 122 in 2011. By the end of this May, the number was already 154.
Moreover, all along the border, officials say minors are increasingly being used to traffic hard drugs such as methamphetamine, heroin, and cocaine, not just marijuana, as was mostly the case in the past.
"That's kind of new and alarming," says Lauren Mack, a spokeswoman in San Diego for Immigration and Customs Enforcement (ICE).
---