Zimmerman verdict protests: Los Angeles police get 'A-plus'
The Los Angeles Police Department has had its share of troubles. But its handling of the George Zimmerman verdict protests shows that it has learned important lessons.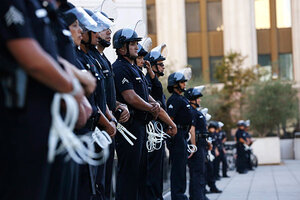 Mario Anzuoni/Reuters
The Los Angeles Police Department – which has repeatedly come in for its share of scrutiny during the past 20 years – is getting high marks for its handling of community protests in the wake of the George Zimmerman verdict.
"I would give them an A-plus," says Najee Ali, a prominent black activist who has been a leader of the local protest movement since the Rodney King riots in 1992. LAPD officers "backed off and let us vent when we needed to, and then also got tough in cracking down when outside provocateurs tried to take advantage."
That restraint came from having long talks ahead of time with activist groups such as the NAACP, the Southern Christian Leadership Conference, Al Sharpton's National Action Network, and local groups, Mr. Ali and others say.
"They told us ahead of time to not go into the streets, block traffic, or vandalize stores," says Ali. "So if any of those things began to happen, they knew it was from outside agitators and it was time to crack down," he says. "Twenty years ago, under [former LAPD Chief] Daryl Gates, they would have come in with guns blazing and probably cracked some heads."
It is a past that recent police chiefs have tried to put behind the city. Beyond the Rodney King riots and bloody scuffles outside the 2000 Democratic National Convention, the problem came to a head during a large pro-immigrant rally in May 2007 in MacArthur Park.
Members of the department's elite Metropolitan Division swept through the park indiscriminately swinging batons and firing rubber bullets to clear out the mostly peaceful protesters after a small group of agitators pelted officers with batteries and other objects. Dozens of people, including a number of journalists and police officers, were injured and the city ultimately paid $13 million to settle lawsuits that arose from the clash.
---