Appeals court: Congress overstepped with its 'Jerusalem, Israel' designation
The ruling, in the case of parents who wanted their son's US passport to read 'Jerusalem, Israel' as his place of birth, said Congress intruded on the exclusive power of the executive branch in passing a 2002 law.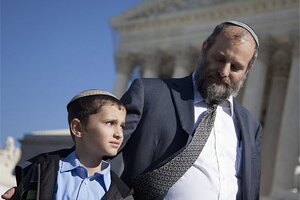 Evan Vucci/AP
Congress intruded on the exclusive power of the executive branch when it passed a 2002 law requiring US consular officials to list "Israel" as the place of birth of American children born in Jerusalem, a federal appeals court ruled on Tuesday.
The decision marks a setback for American-citizen parents whose children were born in Jerusalem and who want their child's newly-issued US passport to reflect that they were born in Israel.
Despite passage of the law, US consular officials have maintained a long-running policy of neutrality on issues touching on the disputed status of Jerusalem. Israel claims a united Jerusalem as its capital, while Palestinians want historically Arab East Jerusalem to be the capital of their future state.
Under the long-held policy, newly issued passports for newborns were to reflect simply that the child was born in "Jerusalem," with no reference to whether that city is part of Israel, part of Palestine, or some other status.
Tuesday's decision comes in the case of Ari and Naomi Zivotofsky, who filed suit in 2003 to have their newborn son's US passport reflect that he was born in "Jerusalem, Israel."
Lawyers for Mr. and Mrs. Zivotofsky argued that the State Department was ignoring the law as passed by Congress. They said that allowing the passport designation of "Jerusalem, Israel" did not interfere with the president's power to recognize the sovereignty of foreign nations, and was no different than allowing Americans born in Tel Aviv the choice of designating the place of birth as simply Tel Aviv or Tel Aviv, Israel.
---