Russian hackers got 160 million bank card numbers, but that wasn't worst part
Federal prosecutors say they've blown open the largest hacking ring in US history, indicting four Russians and a Ukrainian. The biggest worry: One of them hacked into NASDAQ.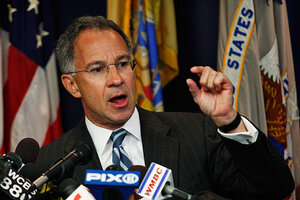 Eduardo Munoz/Reuters
Russian hackers infiltrated the corporate networks of some of the largest US corporations over a seven-year period, stealing more than 160 million credit-card numbers and hundreds of millions of dollars, the largest such scheme ever prosecuted in the United States, said federal authorities unveiling the indictments Thursday.
Targeting corporations that were specifically engaged in financial transactions, the hackers stole data that allowed them to reproduce fake cards they were able to sell or later use to withdraw money from ATMs worldwide.
Among the 15 businesses allegedly hit by the four Russian and one Ukrainian hacker from August 2005 to July 2012: 7-Eleven, JCPenney, JetBlue, and Dow Jones. One of the Russians was also charged separately with hacking into the business-operation servers of the NASDAQ stock exchange from 2008-10 and manipulating data. But that hack did not reach the exchange's trading platform where stocks are bought and sold, authorities said.
Law enforcement officials touted the case as a significant step forward in demonstrating their ability to crack a difficult cybercrime operation involving crooks who took extensive steps – including using encrypted communications – to keep their identities and operations secret.
"This type of crime is the cutting edge," said Paul Fishman, US Attorney for New Jersey, announcing the indictments. "Those who have the expertise and the inclination to break into our computer networks threaten our economic well-being, our privacy, and our national security."
---