FBI rescues 105 victims of child sex-trafficking in nationwide operation (+video)
The FBI crackdown targets Internet sites, truck stops, casinos, and the streets to identify children forced into sex trafficking. Since 2003, the FBI has recovered 2,700 juveniles and arrested 1,350 adults.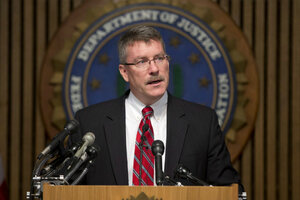 Evan Vucci/AP
Federal agents recovered 105 juveniles involved in prostitution and arrested 150 adults allegedly acting as pimps during a three-day nationwide crackdown against child sex trafficking and sexual exploitation of children, the FBI announced on Monday.
Arrests were made in 76 cities in a massive operation by the Federal Bureau of Investigation in concert with 230 local, state, and federal law enforcement agencies, as well as the National Center for Missing and Exploited Children.
The enforcement action marked the seventh version of Operation Cross Country designed to identify and free children forced into the sex industry.
"Child prostitution remains a persistent threat to children across America," Ron Hosko, assistant director of the FBI's Criminal Investigative Division, said in a statement.
"This operation serves as a reminder that these abhorrent crimes can happen anywhere," he said.
Since 2003, the FBI and other partners of the task force have recovered 2,700 juveniles from the streets and won 1,350 convictions for those seeking to profit from the sexual exploitation of children.
---