O.J. Simpson decision: How did he get parole but can't go free?
O.J. Simpson is in jail for several crimes committed in confronting sports memorabilia collectors in 2007. Because of model behavior, Simpson got parole for some of the crimes, but not for others.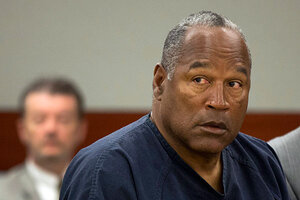 Julie Jacobson/AP/File
In a legal victory for O.J. Simpson, the former football star has been granted parole on some of the charges that have kept him in the Nevada prison system for nearly five years. But he still faces at least four more years in prison.
The decision by the Nevada Board of Parole Commissioners means that Mr. Simpson has received parole for some – but not all – of the crimes he committed in a 2007 kidnapping and armed robbery in Las Vegas.
"What it doesn't mean is that Simpson will be free on Oct. 2 when this decision becomes effective," says Robert Pugsley, a professor at Southwestern Law School in Los Angeles. "Rather he will stay imprisoned for convictions of other crimes he committed in the same event."
Simpson was convicted in 2008 on charges of kidnapping and robbery stemming from a confrontation he had with two sports memorabilia collectors in a Las Vegas hotel room. After three co-defendants pleaded guilty and agreed to testify against Simpson, he was convicted and sentenced to 33 years in prison with the possibility of parole in nine years.
In appearing before two members of the parole board last week, Simpson said that he has been a model prisoner and that other prisoners come to him for stories and guidance. The board agreed that Simpson has had a positive record in prison, participating in programs that address the issues that put him there.
---