Cleveland kidnapper Ariel Castro blames porn addiction. Credible?
Research is sparse on whether there's a link between addiction to pornography and violent sexual behavior, and defense lawyers usually shy away from asserting one. But it does crop up in criminal trials, as it did this week during sentencing for Ariel Castro.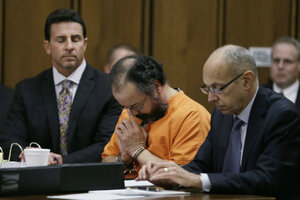 Tony Dejak/AP
Before Cleveland kidnapper Ariel Castro stood to receive his sentence of life in prison without parole Thursday, he struggled to try to put his crimes – the repeated rape and torture of three captive women for about a decade – in a context for the judge and those in the courtroom.
"I believe I am addicted to pornography to a point that it really makes me impulsive and I don't realize what I'm doing is wrong. I'm not trying to make excuses," he said. Mr. Castro said his habit of watching pornography for two to three hours a day stems from what he says was his own sexual abuse as a child.
"I am a good person, and I hope [people] find it in their hearts to forgive me and do a research on people who have addictions so they can see how their addiction takes over their lives," he later added.
While it's known that people can become addicted to pornography, the link between porn addiction and violent behavior is a tenuous one at best, say those who study sexual violence. Moreover, it is not often used as a defense in criminal cases, probably because it would offend most jurors' sensibilities – even if the defendant claims that the porn addiction stems from his own sexual abuse in childhood.
"Most of humanity is not prepared to accept [that] you can be hard-wired as a child in a way that it manifests itself later on in such violence" against others, says Daniel Coyne, a criminal lawyer who oversees the sexual violence clinic at the Chicago-Kent College of Law at the Illinois Institute of Technology.
---