Sex offenders awarded $1 in liability suit over N.Y. illegal 'civil commitments'
Six sex offenders got no damage awards from former New York Gov. George Pataki and other officials who had confined to mental institutions after they served their sentences. One official is liable for $1 to each, a federal jury decided in a case that tested attitudes toward social outcasts.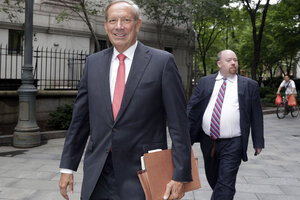 Richard Drew/AP
A federal jury this week found former New York Gov. George Pataki and two other former state officials "not liable" for illegally confining six sex offenders to state mental institutions after they had completed their sentences.
On one hand, Wednesday's decision was not surprising. American politics and society have long struggled with the demand to continue to keep locked up criminals who have committed the most vile crimes but who, according to law, are allowed to go free. Yet that tendency threatens the integrity of the judicial process, with few willing to stand up for people who have done such reprehensible things, some legal experts say.
Such cases are emotionally fraught and constitute a delicate legal balance between public safety and due process, and the jury's verdict in the New York sex offenders' civil suit points to the difficulty of striking that balance.
"It's an ominous development," says Robert Burt, a law professor at Yale University in New Haven, Conn. These kinds of legal efforts seek "to turn confinement [of sexual offenders] away from the ordinary criminal justice system, into a mental health issue, and then to offer treatment." But the offer is a "fraud" that's not followed up on, he says.
The case centered on a 2005 Pataki administration initiative that called for the psychiatric evaluation and continued confinement of potentially dangerous prisoners slated to be released. Twenty states, including California, Florida, and Illinois, have enacted laws permitting the civil commitment of sexual offenders as of 2010. The Adam Walsh Child Protection and Safety Act of 2006 also authorizes the federal government to commit and treat federal sex offenders. But these include legal safeguards that have passed constitutional muster, including judicial review. The Pataki initiative was simply an administrative policy.
---