Too mentally ill for death? Florida executes man who lost Supreme Court appeal.
The case of John Errol Ferguson, executed Monday in Florida, raised the thorny question of how much mental illness is too much for someone facing execution. But the US Supreme Court declined to intervene.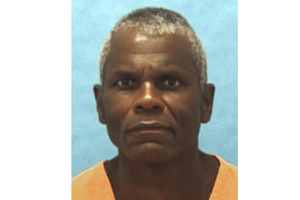 Florida Department of Corrections/AP
The state of Florida on Monday executed a longtime death row inmate who believed he was the "Prince of God" and whose lawyers had argued that he was too mentally ill to face capital punishment.
John Errol Ferguson was executed by lethal injection at the Florida State Prison in Starke, where he had been on death row since his convictions on multiple murder charges in the late 1970s. He was pronounced dead at 6:17 p.m.
The action came after the US Supreme Court turned down a final appeal urging the justices to take up the Ferguson case to examine the difficult question of how much mental illness is too much mental illness for someone facing capital punishment.
Ferguson's lawyer, Christopher Handman, said he was "gravely disappointed" that the high court had declined to hear the appeal. "Mr. Ferguson has been profoundly mentally ill for four decades…, but is now deemed suddenly and inexplicably cured," he said in a statement.
Mr. Handman had argued that Ferguson's case would offer the high court an opportunity to identify with greater precision the parameters judges are to use when deciding whether a condemned prisoner is mentally competent enough to face execution.
Because the death penalty is a form of state-authorized retribution for crime, it is essential that the condemned prisoner appreciate the significance of the punishment, legal experts say. Without that appreciation, the process would lack any retributive purpose and amount to a government killing without an accepted justification. That would violate the Eighth Amendment ban on cruel and unusual punishment, according to legal experts.
John Ferguson has been on death row for 35 years after being convicted of involvement in two different multiple murders.
---