Racial bias and 'stand your ground' laws: what the data show
Data from states with 'stand your ground' laws raise questions about how notions of self-defense are evolving and whether, under such laws, race-based fears are more likely to influence juries.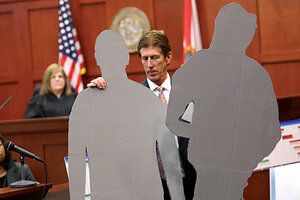 Joe Burbank/Orlando Sentinel/AP
During the closing arguments of the George Zimmerman trial, defense attorney Mark O'Mara asked the courtroom to be quiet for four long minutes. When he at last broke the silence, he said those four minutes were the amount of time that Trayvon Martin had had to go home.
Mr. O'Mara left no doubts: It was Trayvon's decision not to go home, but instead to "plan" an attack on Mr. Zimmerman, punching and beating him, that caused Zimmerman to fatally shoot him. Because he did not go home, O'Mara said, "Trayvon Martin caused his own death."
It is an argument, it seems, that was successful; the jury on July 13 found Zimmerman not guilty of murder or manslaughter. But it is also an argument that raises deep questions about how notions of self-defense have evolved in the era of "stand your ground" laws, and whether those changes are allowing racial fears to influence juries.
The implication in O'Mara's argument was that Zimmerman, who is white and Hispanic, who was armed, and who ignored a 911 dispatcher's instructions not to follow Trayvon, had more of a right to stand his ground than did 17-year-old Trayvon, who was black. And the verdict suggests the jurors agreed.
Data from other states with stand-your-ground laws indicate that the Zimmerman jury was not alone in being sympathetic to such a claim. Whites are significantly more successful claiming self-defense when their attacker is black than blacks are when fighting back against an attacker who is white, according to one study.
---