With NSA and NYPD under scrutiny, is tide turning on surveillance?
The NYPD is dropping more than a half million names from its stop-and-frisk database, and NSA surveillance may face new scrutiny for reportedly sifting the actual content of Americans' e-mail.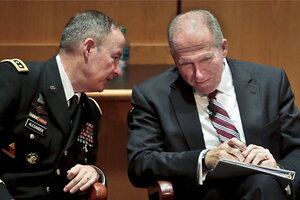 Bebeto Matthews/AP
Government surveillance programs are on the defensive.
On Wednesday, the New York Police Department agreed to expunge more than a half million names from its stop-and-frisk database – another blow to the embattled crime-fighting tactic that Mayor Michael Bloomberg has hailed as a key policy in the city's plunging crime rate.
And the National Security Administration, already under fire from revelations that it has been vacuuming up vast amounts of Americans' private phone and e-mail data, likely will face increased scrutiny as it has also been sifting through some of the actual content – a fact previously undisclosed – according to a New York Times investigation.
The Obama administration has defended the secret NSA program as an essential tool in the fight against terrorism.
Both practices, while involving separate issues of safety, have reignited questions about the ways government agencies keep tabs on millions of citizens – as well as the various techniques they employ to fight both crime and terror.
Civil liberties advocates are seeking to put government officials on their heels as they fight to swing the constitutional pendulum back toward protection of privacy.
"There has to be a balance struck between the need to protect us, and the need to protect the constitution," says Randolph McLaughlin, co-chair of the civil rights practice group at Newman Ferrara LLP in New York. "And that's the wavering line we've been adjusting since 9/11, frankly." [Editor's note: The original version of this story had an incorrect first name for Mr. McLaughlin.]
---