9/11 defendant leaves Guantánamo hearing, citing 'psychological torture'
Ramzi Bin al-Shibh, one of five 9/11 defendants at the military commission trial at Guantánamo, told the judge that problems with the food amounted to torture by the military guards.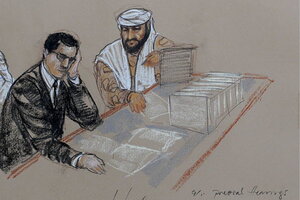 Janet Hamlin/Reuters
In a strange twist in an increasingly unusual case, a defendant in the 9/11 military commission trial at Guantánamo suddenly asked midway through a pre-trial hearing on Tuesday to be taken back to his cell after complaining of being subjected to "psychological torture" by military guards.
Ramzi Bin al-Shibh asked the judge to be returned to the terror detention camp rather than remain in the courtroom for the rest of the day's proceeding.
The judge, US Army Col. James Pohl, asked the defendant whether he was voluntarily waiving his right to be present during the hearing.
"I cannot remain here," Mr. Bin al-Shibh told the judge in open court. "There are problems with the food that was provided."
He said he was experiencing a "daily problem" with food and that when he had meetings with his lawyers during the lunch hour sometimes he was not provided any lunch at all.
"This is one sort of psychological torture," he said. "They cause problems (between) me and the guards on a daily basis," he said through an Arabic translator. He added that it was not just a problem for him but for "the brothers as well," referring to his co-defendants in the case.
The strange action came on the second day of a weeklong series of hearings addressing a range of pre-trial legal issues in the military commission trial of alleged 9/11 mastermind Khalid Sheikh Mohammed, Mr. Bin Al-Shibh, and three others at the US Naval Base at Guantánamo Bay, Cuba.
The hearings are being monitored by news reporters at Guantánamo and via a live video feed at Fort Meade, Md.
Bin al-Shibh was the only defendant of the five who chose to attend Tuesday's hearing. The four other co-defendants waived their right to be present at the hearing and opted instead to remain in their cells at the terror detention camp.
---