NSA repeatedly ignored court surveillance rules, documents show
This latest document release marks a bid by the Obama administration, after massive leaks by former NSA contractor Edward Snowden, to demonstrate transparency on surveillance policy and privacy safeguards.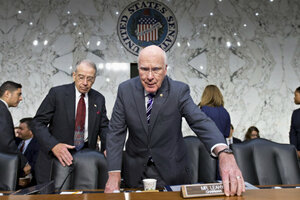 J. Scott Applewhite/AP/File
For more than two years, the National Security Agency violated legal guidelines set up by the secret federal intelligence court that oversees it, misleading the court's judges about the surveillance it was conducting, top secret court documents released by the Obama administration show.
The court documents, released Tuesday, include a harshly worded court opinion in which a federal judge berates the NSA not just for failing to conduct phone record searches in accord with legal guidelines meant to protect Americans' privacy, but for misleading the court that agency searches complied with those guidelines – when, most often, they did not.
While the release of the documents served to comply with the administration's pledges of increased transparency regarding surveillance policy and safeguards to Americans' privacy, critics of that policy said the documents' contents provide evidence of serious limitations in the judicial oversight of surveillance practices.
The Foreign Intelligence Surveillance Court (FISC) provides secret legal opinions intended to oversee intelligence community requests for surveillance. Under the court's supervision, the NSA began collecting phone metadata in 2006 – the phone numbers at either end of a call, the call's duration, time of day and other data, but not the content of the call itself.
---