Florida mom to get new trial: Did court detect a 'stand your ground' inequity?
Marissa Alexander, serving time for firing a warning shot in what she said was self-defense, will get a new trial, a Florida appeals court rules. Her defenders asked why the state's 'stand your ground' law didn't apply to her.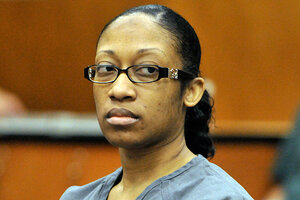 Bob Self/The Florida Times-Union/Reuters/File
A Florida mom sentenced to 20 years in prison for firing a warning shot in what she said was self-defense will receive a new trial, on grounds that the jury was not properly instructed about how to apply the state's robust self-defense law that allows people who feel threatened to stand their ground. The case of Marissa Alexander, who is black, has raised concerns about the extent to which "stand your ground" laws allow biases to creep into jury decisions.
Ms. Alexander was found guilty in May 2012 of discharging a deadly weapon near her estranged husband and newborn baby. She countered that she had long been abused by her husband and had fired the shot as a warning for him not to get any closer to her during what was becoming a physical altercation. He was not injured.
Under Florida law, people have no duty to retreat from danger before fighting back, even with deadly force. But a judge ruled that the stand-your-ground law didn't apply in Alexander's case. After a jury found her guilty, the judge sentenced her to 20 years in prison, citing Florida's tough minimum sentencing laws, even though Alexander had never before been in trouble with the law.
Critics have cited Alexander's case as an example of unfair application of a stand-your-ground self-defense law, and they point to the acquittal of George Zimmerman this summer to buttress their charge. The half-white, half-Hispanic neighborhood watch captain was found not guilty of killing Trayvon Martin, a black teenager, after following the unarmed youth onto a dark neighborhood path in Sanford, Fla. Mr. Zimmerman, too, claimed self-defense.
(Interestingly, the same prosecutor who charged Zimmerman with second-degree murder, Angela Corey, led the prosecution against Alexander. "She put a round in the chamber, and she fired that shot out of anger, not fear," Ms. Corey told the Washington Post.)
---