Voter ID: North Carolina law targets minority rights, Eric Holder says
Eric Holder announced a Justice Department suit against parts of the North Carolina election law, including a voter ID requirement, saying lawmakers knowingly curtailed minority voting rights.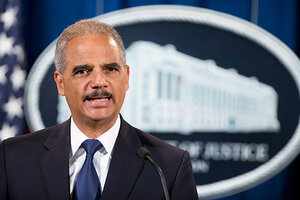 Manuel Balce Ceneta/AP
Attorney General Eric Holder, announcing a Justice Department lawsuit seeking to overturn key parts of North Carolina's new election law, accused state lawmakers of waging an aggressive, targeted effort to undermine the voting rights of African-Americans and other minorities when they enacted the law last summer.
"The state legislature took extremely aggressive steps to curtail the voting rights of African-Americans," Mr. Holder said at a press conference. "This is an intentional attempt to break a system that was working."
Justice Department lawyers are also asking a federal judge to order that North Carolina be subject to special pre-clearance procedures for all future election law changes.
The challenged provisions in North Carolina include a new requirement (starting in 2016) that voters present photo ID prior to voting, the elimination of same-day registration during early voting, and a reduction in the early voting period from 17 days to 10 days.
The Justice Department is also objecting to a measure that bars the counting of any provisional ballot submitted in a precinct other than the voter's assigned, home precinct.
"The Justice Department expects to show that the clear and intended effects of these changes would contract the electorate and result in unequal access to participation in the political process on account of race," Holder said.
"By restricting access and ease of voter participation, this new law would shrink, rather than expand, access to the franchise," Holder told reporters. "And it is especially troubling that the law would significantly narrow the early voting window that enabled hundreds of thousands of North Carolinians, including a disproportionally large number of minority voters, to cast ballots during the last election cycle."
---