Good Samaritan saves 8-year-old kidnapped girl
Good Samaritan Victor Perez, a resident of Fresno, Calif., chased the kidnapper in his car and cut him off. "I thank God he put me here to help out that little girl – that's for sure," said Mr. Perez.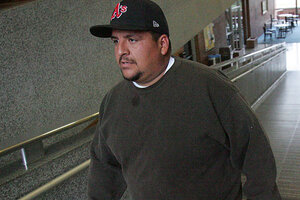 Gary Kazanjian/AP
An 8-year-old girl who was abducted by a stranger while playing outside a California home escaped from her captor Tuesday morning after a driver recognized the suspect's vehicle and cut it off, police said.
The child was found in Fresno about 11 hours after she disappeared around 8:30 p.m. local time Monday, triggering a statewide alert. Police arrested Gregorio Gonzalez, 24, who they said was a member of the Bulldogs street gang.
Fresno Police Chief Jerry Dyer said the driver recognized the red pickup truck from media reports that showed surveillance video of the kidnapper's vehicle.
When the driver saw a girl's head in the window, he cut the truck off and forced it to stop, Dyer said. The suspect pushed the girl out of the car, and she ran to safety, he said.
The girl was taken to a hospital in good condition, but Dyer later confirmed she had been sexually assaulted. The police chief described her as "frightened, traumatized."
Authorities released the victim's name when issuing the alert, but The Associated Press does not identify victims of sexual assault without their consent.
"I was at the same time happy and grateful that my daughter had been brought home," the girl's mother told a news conference. "During the night, the hours seemed very long."
Police said quick action by Fresno resident Victor Perez helped the girl escape.
Perez told KFSN-TV he saw the truck's description on TV, then spotted it parked in front of another house. Perez jumped in his car and started following when he saw the truck pull away.
---