Elizabeth Smart testifies to her abduction and vow to survive
Elizabeth Smart testified in a federal court Monday in Utah of her abduction by Brian David Mitchell, the man accused of kidnapping and assaulting her in June 2002. Fourteen at the time, Elizabeth Smart vowed to "survive" the attack.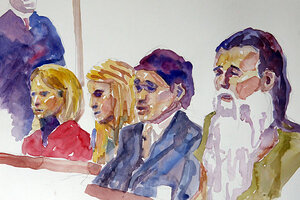 Jimmy Lucero/AP
Elizabeth Smart remembers not being able to make out the threat, only the feel of a cold knife at her neck.
As the then-14-year-old lay in bed alongside her baby sister, the man repeated: "Don't make a sound. Get out of bed and come with me, or I will kill you and your family." She was his hostage, he told her.
"I was shocked. I thought I was having a nightmare. It was just indescribable fear," Smart, now 23, told jurors Monday on the first day of testimony in the federal trial of Brian David Mitchell, the man accused of kidnapping her in June 2002.
Smart was due back on the witness stand on Tuesday,
That night eight years ago, they fled up the hills above her home, with Smart in her red pajamas and tennis shoes, and the knife to her back.
Mitchell's attorneys did not dispute the facts of the abduction. But during opening statements, they said the prosecution's allegation that he was a calculating person who planned the kidnapping was wrong.
Known as a homeless street preacher named "Immanuel," Mitchell was influenced by a worsening mental illness and religious beliefs that made him think he was doing what God wanted, his attorneys said.
Mitchell, who has a long graying beard to the middle of his chest and hair to the middle of his back, was again removed from the courtroom Monday for singing hymns, so he's watching and listening from a holding cell.
Smart's mother testified that she and her children ran into Mitchell downtown and that she offered him a job doing handyman work at the family's home. One of her sons encouraged her to give him money, she said.
"He looked like a clean-cut, well-kept man that was down on his luck," she said. "I gave him $5."
---