Sarah Palin hacker: How much prison time should he get?
Sarah Palin has declined to comment on the prosecutors' latest request that the college student who hacked Palin's e-mail account should get 18 months in prison. A judge will sentence the hacker today.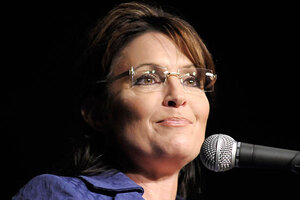 Brandi Simons/AP/File
Prosecutors in a new court filing say the former University of Tennessee student convicted of hacking Sarah Palin's e-mail should spend 18 months in prison.
A federal judge in Knoxville will sentence David Kernell, who was arrested in 2008 for hacking the former Alaska governor's e-mail, today.
The former Alaska governor and her daughter Bristol testified in the April trial that the hacking, followed by Kernell's online bragging and providing the password and Palin family telephone numbers to others, caused them emotional hardship. Palin previously declined comment about Kernell's sentence and said it should be up to the judge.
QUIZ: How well do you know Sarah Palin?
Defense attorney Wade Davies has filed motions seeking probation at the sentencing, contending Kernell used publicly available information to guess his way into the e-mail in a prank. Prosecutors in a new court filing say the hacking was motivated by Palin's status as a governor and candidate for vice president.
---