Feds: Somali-born teen plotted car-bombing in Oregon
In an undercover sting operation at a Christmas tree lighting in Portland, Oregon, Mohamed Osman Mohamud was arrested dialing a cell phone that he thought would set off the blast.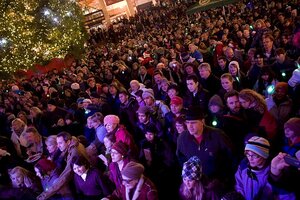 Torsten Kjellstrand/The Oregonian/AP
Undercover agents in a sting operation stopped a Somali-born teenager from blowing up a van full of explosives at a crowded Christmas tree lighting ceremony in downtown Portland, Oregon, federal authorities said. The bomb was a dud supplied by the agents and the public was never in danger, authorities said.
Mohamed Osman Mohamud, 19, was arrested at 5:40 p.m. Friday just after he dialed a cell phone that he thought would set off the blast but instead brought federal agents and police swooping down on him.
Yelling "Allahu Akbar!" – Arabic for "God is great!" – Mohamud tried to kick agents and police after he was taken into custody, according to prosecutors.
"The threat was very real," said Arthur Balizan, special agent in charge of the FBI in Oregon. "Our investigation shows that Mohamud was absolutely committed to carrying out an attack on a very grand scale."
The FBI affidavit that outlined the investigation alleges that Mohamud planned the attack for months, at one point mailing bomb components to FBI operatives, whom he believed were assembling the device.
---