US teens smoke more marijuana than tobacco, says new survey
Marijuana use among American teens is up, but binge drinking is down, says a federal 2010 survey on drug use among teenagers. For the first time, marijuana use has passed cigarette use in the survey.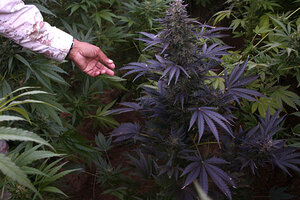 Jorge Duenes/Reuters
More American teens may be smoking marijuana than cigarettes but fewer are binge-drinking, US federal health officials said Tuesday.
An annual survey on drug use found increases in marijuana use among all age groups but showed slightly fewer high school seniors were smoking than in recent years.
``These high rates of marijuana use during the teen and pre-teen years, when the brain continues to develop, place our young people at particular risk,'' National Institute for Drug Abuse director Dr. Nora Volkow said in a statement.
``Not only does marijuana affect learning, judgment, and motor skills, but research tells us that about one in six people who start using it as adolescents become addicted.''
Related: How much do you know about marijuana? Take the quiz.
The survey of 46,482 students from 396 schools found that 16 percent of eighth-graders, typically 13 and 14 years old, admitted to using marijuana, up from 14.5 percent in 2009.
More than 21 percent of high school seniors, aged 17 and 18, said they had used marijuana in the past 30 days, while 19.2 percent said they smoked cigarettes. This is the first time marijuana use has passed cigarette use in the survey.
The survey found binge drinking, defined as having five drinks or more in a row, was down. Just over 23 percent of high school seniors admitted to binge drinking in the past two weeks, compared to 25 percent in 2009 and 31.5 percent in 1998.
The survey found more than 6 percent of high school seniors use marijuana every day, up from 5 percent last year. More than 3 percent of 10th graders and 1 percent of eighth graders said they used marijuana daily, all increases over 2009.
---