Severe weather from Chicago to Boston as monster storm arrives
Severe weather, in the form of snow, is headed for St. Louis, Kansas City, Chicago, and Milwaukee. A monster storm could dump up to two-feet of snow and drifts piled up to 10 feet.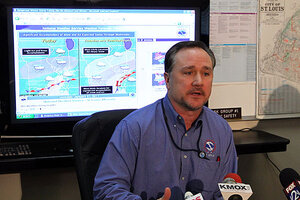 BILL GREENBLATT/UPI/Newscom
A monster winter storm took aim at one-third of the nation Monday, threatening to lay a potentially deadly path of heavy snow and ice from the Rockies to New England, followed by a wave of bitter, bone-rattling cold that could affect tens of millions of people.
Cities including St. Louis, Kansas City, and Milwaukee could be hardest hit with the severe weather. Cities are bracing for midweek snowfalls of up to 2 feet and drifts piled 5 to 10 feet. Even hardy Chicago could be in for its third-worst blizzard since record-keeping began.
"I wouldn't want to be on the road in open areas tomorrow night," said forecaster Tom Skilling of Chicago television station WGN. "I don't think I'd want to be driving in the city either. The fact is people die in these things. They skid off the road and go wandering around in whiteout conditions."
Warmer areas were not safe, either. The system could spawn tornadoes in parts of the South.
IN PICTURES: What are cities doing with all the snow?
While record snowfalls have pounded the Northeast in one of that region's most brutal winters, the Midwest has been comparatively unscathed, until now.
---
Follow Stories Like This
Get the Monitor stories you care about delivered to your inbox.