Health insurance waiver: bipartisan proposal attempts to move up date
Health insurance waiver may be moved up to 2014, if Sen. Scott Brown and Sen. Ron Wyden get their way. The proposal would allow states a health insurance waiver if they developed their own healthcare solution.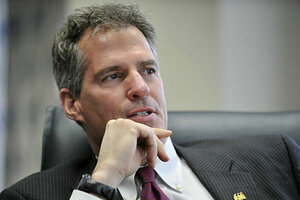 Josh Reynolds/AP/File
A Democrat and a Republican teamed up in the U.S. Senate on Thursday to offer legislation that would give states the flexibility to implement their own healthcare approaches when the federal overhaul goes into full effect in 2014.
The proposal by Democrat Ron Wyden and Republican Scott Brown moves up the date when states can apply for waivers from the federal law in order to implement their own approaches.
The law, which passed in March, currently allows states to apply for waivers in 2017.
Under the Wyden and Brown proposal, states could apply for an exemption from some requirements of the reform law -- including the mandate that everyone purchase insurance and the employer penalty for not providing coverage -- if they offer an alternative that is considered at least as effective and affordable.
"States shouldn't be forced by the federal government to adopt a one-size-fits all healthcare plan. Each state's health care needs are different," Brown, who opposed the federal overhaul, said in a statement.
"Our bill provides flexibility and allows states like Massachusetts to opt out of portions of the healthcare law," said Brown, whose home state of Massachusetts has its own comprehensive healthcare plan.
---