Rahm Emanuel wins Chicago mayoral race, avoids runoff
Rahm Emanuel has won the Chicago mayoral race by 55 percent which brings him over the 50 percent needed to avoid an April runoff. Emanuel calls the win humbling.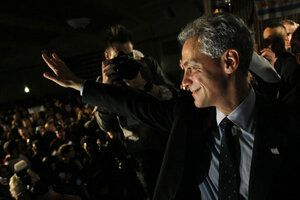 Charles Rex Arbogast/AP
Former White House chief of staff Rahm Emanuel was elected mayor of Chicago on Tuesday, easily overwhelming five rivals to take the helm of the nation's third-largest city as it prepares to chart a new course without the retiring Richard M. Daley.
With 97 percent of the precincts reporting, Emanuel had trounced five opponents with 55 percent of the vote — a margin that allowed him to avoid an April runoff. He needed more than 50 percent of the vote to win outright.
It was the city's first mayoral race in more than 60 years without an incumbent on the ballot and the first in more than two decades without Daley among the candidates. Daley and his father have led Chicago for more than 43 out of the last 56 years.
Emanuel called the victory "humbling" and thanked Daley for his lifetime of service, saying the outgoing mayor had "earned a special place in our hearts and our history."
But he added: "We have not won anything until a kid can go to school thinking of their studies and not their safety. Until the parent of that child is thinking about their work and not where they are going to find work, we have not won anything."
Reginald Bachus, the 51-year-old pastor of a West Side church who voted for Emanuel, said this was "a very critical time for Chicago.
"We really need a mayor who has vision. It's my personal opinion everyone else would have been a manager, and I think Rahm has vision," Bachus said.
---