Mike Huckabee caught claiming Obama grew up in Kenya
Mike Huckabee claimed President Obama grew up in Kenya and therefore has 'very different' views about the world 'than the average American.' The only problem is Obama never grew up in Kenya. Did Huckabee plant the falsity purposely in preparation for 2012? What else did he say?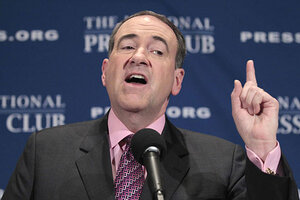 Alex Brandon/AP
Former Arkansas Gov. Mike Huckabee suggested in a radio interview that President Barack Obama's childhood in Kenya shaped his worldview – even though Obama did not visit Kenya until he was in his 20s.
The potential Republican presidential candidate told New York radio station WOR on Monday that Obama's youth led him to resent the West, which he said explains why, in Huckabee's view, Obama's foreign policy differs so greatly from that of his predecessors.
"One thing that I do know is his having grown up in Kenya, his view of the Brits, for example, (is) very different than the average American," Huckabee said, pointing to Obama's decision in 2009 to remove a bust of former Prime Minister Winston Churchill from the Oval Office.
He failed to note that Obama replaced the Oval Office fixture with a bust of one of his American heroes, President Abraham Lincoln, and moved the Churchill bust to the White House residence.
"The bust of Winston Churchill, a great insult to the British," Huckabee said. "But then if you think about it, his perspective as growing up in Kenya with a Kenyan father and grandfather. He probably grew up hearing that the British were a bunch of imperialists who persecuted his grandfather."
Obama's grandfather, Hussein Onyango Obama, was detained in a 1952 uprising against British colonial rule in Kenya. Huckabee said childhood stories of the Mau Mau rebellion led President Obama to remove from the Oval Office the bust of Churchill, who ordered a crackdown against that uprising.
---