NCAA championship: UConn wins third national title
NCAA championship ends in disappointment for second year for Butler. UConn beat the Indiana underdog 53-41, making it UConn's third national title.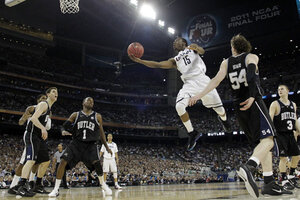 Eric Gay/AP
The only thing that could stop Kemba Walker and Connecticut's amazing run was the final buzzer.
On a night when the massive arena felt like a dusty old gym, UConn made Butler look like the underdog it really was, winning the national championship Monday night with an old-fashioned, grinding 53-41 beatdown of the Bulldogs.
Walker finished with 16 points for the Huskies (32-9), who won their 11th straight game since closing the regular season with a 9-9 Big East record that foreshadowed none of this.
They closed it out with a defensive showing for the ages, holding Butler to a 12-for-64 shooting. That's 18.8 percent, the worst ever in a title game, which made for an ugly overall night but turned into the kind of game a grizzled old coach like Jim Calhoun could love.
At age 68, he became the oldest coach to win the NCAA championship and joined John Wooden, Adolph Rupp, Mike Krzyzewski and Bob Knight as only the fifth coach to win three NCAA titles.
"It may be the happiest moment of my life," Calhoun said.
Calhoun designed this win by accepting the reality that the rim was about as wide as a pancake on a defensive-minded night in Houston, by making his players pound the ball inside and insisting on the kind of defense that UConn played during this remarkable run, but which often got overshadowed by Walker's theatrics.
---