Federal shutdown averted at last minute
Federal shutdown: Democrats and Republicans made a last minute historic deal to cut the federal budget and avoid a federal shutdown.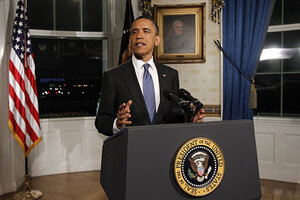 Charles Dharapak/AP
President Barack Obama and congressional leaders reached a historic, last-minute agreement just before a midnight deadline to slash about $38 billion in federal spending and avert the firstfederal government shutdown in 15 years.
Obama hailed the deal as "the biggest annual spending cut in history." John Boehner, the Republican speaker of the House of Representatives, said that over the next decade it would cut government spending by $500 billion, and won an ovation from his rank and file — conservative tea party adherents among them.
Amid the biggest clash yet between Democrats and the resurgent Republicans who control the House, Obama had warned that a shutdown would damage the economy's recovery by putting an estimated 800,000 government employees out of work.
The political stakes of a shutdown were huge ahead of next year's presidential and congressional elections. During the last government shutdown during Bill Clinton's presidency, Republicans got most of the blame in — but there was no assurance that would have happened again.
Since taking control of the House in January, Republicans have vowed to slash what they described as out-of-control spending and curb the federal deficit. Democrats accused Republicans of wanting to cut vital government services and pushing a social agenda, while Republicans said Democrats weren't serious about cutting spending.
---