1918 World Series: was the famous Red Sox win fixed?
1918 World Series: new information about the 1918 World Series points at strong influence from gamblers, and the possibility that the Cubs threw the game against the Red Sox.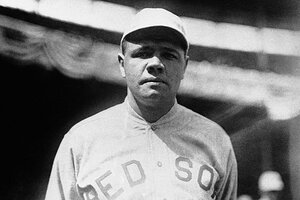 AP/File
If Chicago has been willing to believe that a cow caused the Great Chicago Fire, maybe it will buy this one: The White Sox got the idea to throw the 1919 World Series after the Cubs did the same thing one year earlier.
That's the suggestion — more of a hint, really — from Eddie Cicotte, one of the infamous Black Sox banned from baseball after their tainted World Series against Cincinnati.
In a 1920 court deposition the Chicago History Museum recently put on its website, Cicotte said "the boys on the club" talked about how a Cub or a number of Cubs were offered $10,000 to throw the 1918 Series they lost 4-2 to the Boston Red Sox.
Cicotte is as vague as vague can be, failing to name any names or provide any details about how the players might have done it or even if he believes the Cubs threw the Series. But if what he suggests is true it means that when it came to fixing ball games in the early 20th century, Chicago was nobody's Second City.
"It is interesting to me as a Cubs fan and a historian of Chicago that both teams could be involved in back-to-back years," said Peter Alter, an archivist at the museum who examined the document and other artifacts that the museum paid $100,000 for at auction.
If Cicotte's deposition lacks specifics, it does offer a glimpse into the life of a player when their lives were a lot more like the working stiffs who rooted for them than the wealthy owners they played for.
Players commonly groused about being underpaid and there wasn't anyone in the majors who didn't hear rumors about fixes. It was impossible not to see the gamblers at the games, the lobbies of the hotels where they stayed or in the taverns where they drank.
---