Sarah Palin bus tour: Todd Palin's perspective on 2012 election
Sarah Palin's husband, Todd (aka 'First Dude') tells reporters covering the Palin family bus tour that it's Sarah's decision to run or not in 2012.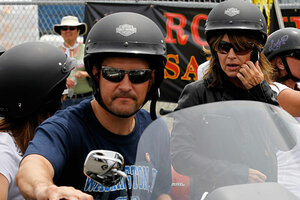 Alex Brandon/AP
Newsweek/DailyBeast
The "First Dude" says he's not pushing her to run. Todd Palin chatted with reporters at a coffee shop in Pennsylvania after touring the Gettysburg battlefields. It is day three of the Palin Bus Tour, which is stopping at historical sites up the East Coast. "It's up to her what she decides to do. I am not pushing her either way. It's her decision," Palin told a small group of reporters after his wife met with customers at the coffee shop. "There are pros and cons of course. But this country, we have to get back on the right track."
At Express Coffee in Dillsburg, he also denied that the bus tour is a "test run" for his family saying his children have grown up with their mother in the spotlight.
"This family has been tested. When people talk about how she was just plucked up out of Wasilla, you have to look at her career. Every step in her career is another step for the family, and we were prepared. These kids grew up around the mayor of a small town. Local politics is in your face every day, it's not like you get on a plane and fly to D.C. or Juneau."
---