Maria Sharapova goes on to semifinals at Wimbledon
Maria Sharapova beat Dominika Cibulkova at Wimbledon, Tuesday, to continue on to the semifinals. Sharapova will face Sabine Lisicki. Thursday.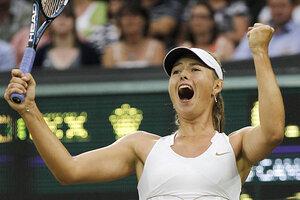 Anja Niedringhaus/AP
Maria Sharapova's coach called it "a statement."
For exactly one hour of excellence, Sharapova played — and sounded — exactly the way she did when she was a teenager, when it seemed nothing could stop her.
Those powerful-as-ever groundstrokes cut through the grass, landing right where she wanted. Those solid-as-ever service returns flummoxed her overmatched opponent. And those loud-as-ever shrieks bounced around Centre Court, its retractable roof shut to keep out the rain.
Simply put, Sharapova dominated 24th-seeded Dominika Cibulkova of Slovakia 6-1, 6-1 Tuesday to reach the Wimbledon semifinals for the first time since 2006 — back in the days before she needed surgery to repair her right shoulder and dealt with doubts about the future of her career.
"I would have loved for it not to have taken that long, but I'm not complaining. It's the road that you sometimes have to take. It's not always straight; there are a lot of zigzags. A lot of time, you feel like it's a dead end," said Sharapova, who won her first Grand Slam title at age 17 at Wimbledon in 2004.
"I've worked really hard to get in this stage, but I'm not saying this is where I want to end," she added. "I want to keep going."
A day after the Williams sisters and No. 1-ranked Caroline Wozniacki were sent home, the three women responsible for those upsets all lost:
— Cibulkova, who beat Wozniacki, held serve to open her match against Sharapova, then dropped the next eight games in a row;
---