Pentagon chief Panetta: US within reach of defeating Al Qaeda
On his first trip to Afghanistan as Secretary of Defense, Leon Panetta offered an upbeat assessment. "We're within reach of strategically defeating Al Qaeda," he said.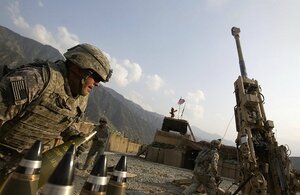 David Goldman/AP
The United States and its allies are within reach of defeating Al Qaeda after killing Osama bin Laden and gaining new insights about the terrorist group's other leading figures, new Defense Secretary Leon Panetta said Saturday.
The former CIA director offered an upbeat assessment about the prospects for ending Al Qaeda's threat as he spoke with reporters flying with him on his first visit to Afghanistan since taking over as Pentagon chief July 1.
In the aftermath of the May 2 raid that killed bin Laden in Pakistan, the US has determined that eliminating "somewhere around 10 to 20 key leaders" of Al Qaeda would cripple the network, Panetta said. Those leaders are in Pakistan, Yemen, Somalia and North Africa, he added.
RECOMMENDED: Who will carry out Obama's Afghanistan exit plan? Three new guys.
"We're within reach of strategically defeating Al Qaeda," Panetta said, addressing reporters for the first time since succeeding Robert Gates as defense secretary.
"The key is that, having gotten bin Laden, we've now identified some of the key leadership within Al Qaeda, both in Pakistan as well as in Yemen and other areas," he said.
---