Saggy pants arrest thrown out by prosecutors
Saggy pants arrest: football player Deshon Marman's arrest on a US Airways flight for wearing saggy pants drew criticism and accusations of racism. Prosecutors Wednesday agreed that criminal charges were not warranted.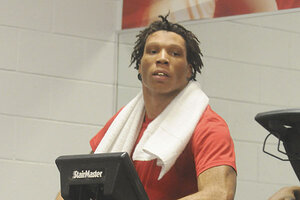 ZUMA Press/Newscom/File
Prosecutors said Wednesday they will not file charges against a University of New Mexico football player who was arrested after wearing saggy pants on a plane at San Francisco airport.
The San Mateo County District Attorney's Office reviewed the June 15 arrest of Deshon Marman and determined criminal charges were not warranted.
"My belief is if we took this into a courtroom with 12 members of our community on our jury, they would tell me, 'Come on guys, you have more important things to spend your time on,'" District Attorney Steve Wagstaffe said. "And I share that view."
Marman was arrested on suspicion of trespassing, battery of a police officer and obstruction after police say he refused to leave the US Airways flight on the captain's orders.
The incident sparked allegations of racial profiling after a photo surfaced of a man who flew aboard a US Airways flight wearing skimpy women's panties and mid-thigh stockings days before Marman's arrest. That man was white. Marman is African-American.
Dozens of people gathered outside San Francisco City Hall on Tuesday in support of Marman. San Francisco Supervisor Malia Cohen told the crowd that she planned to introduce a resolution asking San Mateo County prosecutors to dismiss the case and for a formal apology from the airline.
---