Michele Bachmann: Who are the anti-Bachmann bloggers?
Michele Bachmann has been in the cross-hairs of Minnesota Republican women bloggers, who are behind many mainstream media stories today about Michele Bachmann.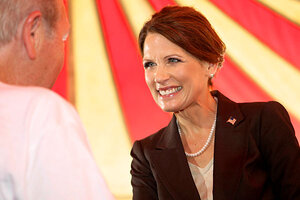 Brett Flashnick/AP
Michele Bachmann's star is on the rise. Her poll numbers are climbing. The donations are rolling in. And the press is scrambling for any scraps about her character, her past, what makes her tick. Digging deep into the Minnesota Republican's record, reporters have found some tantalizing material: her alleged ties to the hatemongering pastor Bradlee Dean, her work to get a pardon for Ponzi schemer Frank Vennes Jr., and her husband's apparent reference to gays as "barbarians."
They're juicy stories and they've gotten plenty of attention nationwide. But they aren't news—a small cluster of bloggers in Minnesota broke all those stories years ago.
These are interesting times for Eva Young, Ken Avidor, and a handful of other contributors who write the Dump Bachmann blog, a small online outpost that punches way above its weight class. For seven years, Young and her compadres have devoted long hours to cataloguing Bachmann's every move, first as an obscure state senator and then in the U.S House. Now the object of their attention is suddenly the front runner in Iowa, and a leading contender for the 2012 GOP nomination. Rather than celebrating their prescience, the bloggers sound downright dismayed.
---