Kobe Bryant may join Turkish team Besiktas
Kobe Bryant may play his next game in Turkey if the Turkish team, Besiktas, wins over Bryant's representatives. Will the Los Angeles Lakers star join the Turkish team during the NBA lockout?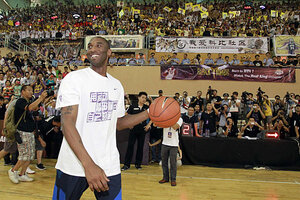 Joe Tan/Reuters
Turkish club Besiktas is in talks with Kobe Bryant's representatives about the possibility of the Los Angeles Lakers star playing in Turkey during the NBA lockout.
"It is a fact that Kobe Bryant's managers have contacted us," coach Ergin Ataman said Thursday, a week after Besiktas signed New Jersey Nets point guard Deron Williams.
Ataman said Bryant was waiting for an offer from Besiktas. The club, however, said it would need a sponsor to be able to pay for Bryant's contract.
"Our board will evaluate that," Ataman said.
Bryant has won five NBA titles with the Lakers and is a 13-time NBA All Star.
Representatives of some other NBA players have also contacted Besiktas, Ataman said, without naming any of them.
The Turkish League season starts in October.
---