Diana Nyad, at 61, swimming from Cuba to Florida without a shark cage
Diana Nyad, an endurance swimmer, says that her 103-mile swim will show that 'we have many, many years of vitality and strength and service left in us.'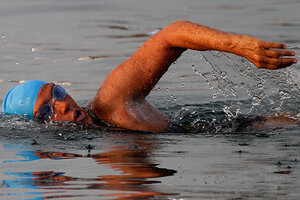 Franklin Reyes/AP
With a calm sea before her and destiny on her mind, 61-year-old American swimmer Diana Nyad plunged into the Straits of Florida at dusk Sunday to begin what she hopes will be a world record 103-mile swim from Cuba to Florida.
Wearing a black bathing suit and blue swimming cap, she methodically stroked her way north through crystal clear waters, accompanied by a small fleet of boats that included Cuban well wishers seeing her off the communist island and the 45-member team that will accompany her on the 60-hour journey.
"I'm standing here in the prime of my life,'' she said before jumping into the sea. "Now I look out at a dead, flat calm, so I think this is my day.''
She swam through "a dark, overcast" night, with a "hazy moon overhead," according to her twitter account.
Onlookers at the Marina Hemingway on the outskirts of Havana applauded and shouted "Buena suerte'' -- good luck -- as she swam away with a fiery orange sunset to her west and encroaching darkness from the east.
Nyad waited until the daytime winds had died so she could start her quest in quiet seas.
---