Aruba missing girl: Hunt continues for Robyn Gardner
The Aruba missing girl case focused on report that she disappeared while snorkeling. Aruba police have arrested her travel companion. American Natalee Holloway went missing in 2005 in Aruba too.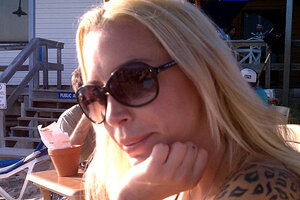 Natalee Holloway Resource Center/AP
Robyn Gardner's wild and rowdy tattoos belie the kind, quiet nature of a trusting woman who sought solace in a tropical getaway with a man who is now suspected in her disappearance, a close friend said.
The 35-year-old divorced woman accepted 50-year-old Gary Giordano's offer of a trip to Aruba despite earlier backing out of a cruise with the man she'd been friends with for over a year, Gardner's friend and part-time roommate Christina Jones said Wednesday.
"She's a very trusting person," Jones said at her hair salon in downtown Frederick. "She's a hardworking, loyal, standup female who has never said anything bad about anyone."
Giordano's account of the disappearance had enough inconsistencies that authorities decided they couldn't let him leave the Caribbean island and arrested him, Aruban Solicitor General Taco Stein said.
"The only thing we have is his story, his statement, and it leaves us with some questions," Stein said in an interview with The Associated Press.
Giordano's Aruban lawyer, Michael Lopez, insists his client is innocent and is being unjustly detained.
Gardner's mother, Andrea Colson, said the family is hoping for the best outcome, praying Robyn will be with them soon and grateful to Aruban authorities and volunteers.
---