Hurricane Irene strengthens, puts Bahamas in its sights
Hurricane Irene has strengthened and could become a Category 3 as it slams into Bahamas, Tuesday.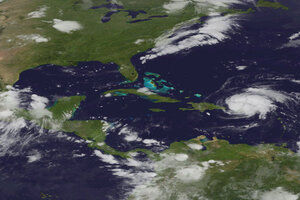 NOAA/AP
A rapidly strengthening Hurricane Irene roared off the Dominican Republic's resort-dotted northern coast on Monday, whipping up high waves and torrential downpours on a track that could see it reach the U.S. Southeast as a major storm by the end of the week.
Irene grew into a Category 2 hurricane late Monday and the U.S. National Hurricane Center in Miami said it could reach Category 3 as early as Tuesday and possibly become a monster Category 4 storm within 72 hours.
"We didn't anticipate it gaining this much strength this early," said center meteorologist Chris Landsea, adding that the ocean's warm temperatures and the current atmosphere is "very conducive" to energizing storms.
Forecasters said it could still be that strong when it slams into the United States, possibly landing in Florida, Georgia, or South Carolina. Irene is expected to rake the Turks and Caicos and the Bahamas on Tuesday and Wednesday.
Earlier, the storm slashed directly across Puerto Rico, tearing up trees and knocking out power to more than a million people, then headed out to sea north of the Dominican Republic, where the powerful storm's outer bands were buffeting the north coast with dangerous sea surge and downpours.
---